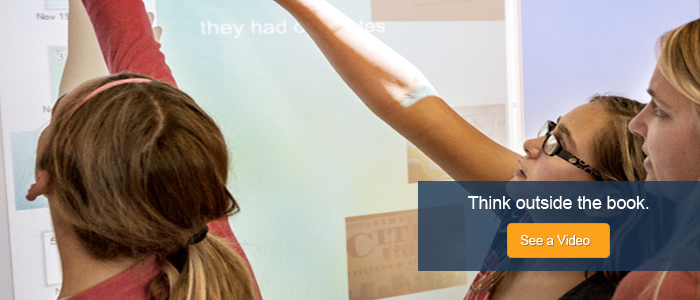 What is SMART Notebook?
Over 3 million active users bring learning to life with SMART Notebook software. Discover the latest features of such as Ink Editing, Geogebra integration, 3D Tools, SMART Response VE and XC collaborative brainstorming tools for 1:1 and BYOD.
SMART Notebook 14 collaborative learning software sets the standard for creating, delivering and managing interactive lessons within a single application. This award-winning software includes a rich set of lesson creation and delivery features and connects you to a full ecosystem of content, tools and support. All your education resources are right at your fingertips, making it easy to bring your lesson materials together and teach with interactive content.
Create themed pages using elements such as fonts, background colors and images, and apply them to SMART Notebook pages.
Format a page with this tool, which accurately aligns objects to other objects and to the vertical and horizontal page centers.
Organize the pages of a SMART Notebook file into groups. Drag pages into the groups, add new pages and show one group at a time in the Page Sorter.
SMART Notebook 2014 provides a number of key enhancements and subject-specific add-ons which enable teachers to inspire learning every day.
---
SMART Notebook Features
Created by Teachers for Teachers
Created and refined based on feedback from educators, with features that help deliver engaging and dynamic lessons. SMART Notebook is also built to support a variety of different teaching approaches, from large classes and small groups, to individual student learning.
Intuitive Learning Tools
Includes tools that make creating lessons a simple and intuitive experience. Get started instantly and save time creating and teaching lessons.
Access High-Quality Resources
Get instant access to SMART Exchange, an online library that offers over 60,000 free high-quality lessons and teaching resources. Plus, enjoy additional content created by over 3 million current SMART Notebook users.
Standardized with SMART Notebook
Now you can purchase SMART Notebook for other brands of interactive hardware, letting you create a single standardized platform that helps students and teachers work more effectively with equipment they already have in the classroom.