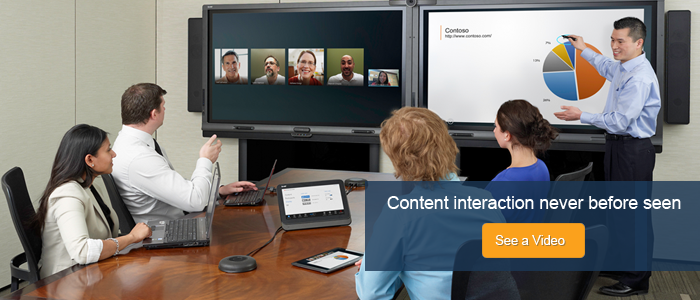 What is a SMART Meeting Room for Microsoft Lync?
The SMART Room System supports levels of interaction that are unmatched by the competition. With it you can ink over any application, including Microsoft® Excel® and Adobe®. It has more size options than any other Lync Room System and is the only system on the market that is manufactured and supported by one vendor.
---
SMART Meeting Room for Microsoft Lync Features
Interactive Display
A commercial-grade, HD/LCD display that enables an unrivalled touch experience
Enhanced Audio
Up to 5 tabletop microphones can be connected, ensuring effective coverage and integrated speakers offer high quality sound.
Panoramic Video
The HD camera displays the entire room and adapts to any lighting condition
Immediate Startup
The display turns on when you walk into the room and meetings are loaded by pressing a button
Optional floor stand
Avoid the need for wall reinforcement and manage table wiring with the integrated raceway.
Interactive Sharing
Enable dual touch and inking capabilities onto any application, including Adobe® and Microsoft®Excel®. Access the revolutionary Unbound Workspace, which lets you pan and zoom to any level of detail, whatever the detail and complexity of the content.
Administrative console
Switch between presenters, change the configuration of data and video and move between presentation and whiteboard content