An affordable PD solution for all of your educators
Over 70 courses and growing
Teq's Online Professional Development is an affordable PD solution for your entire school or district
Fulfill required PD hours for all of your teachers
An annual subscription keeps your teachers learning through the year
Short session times and access to archives allow teachers to view lessons throughout the day, limiting time out of class (and the need for substitutes)
Online Digital Teacher Certifications are included –all of your teachers can be certified for one low price!
---
Online Professional Development. Anytime, anywhere, on any device
Our live courses are scheduled at times we've found most convenient for teachers, but we also understand how hectic an educator's day can be. That's why we archive all of our content! Can't make a live course? Want to review a lesson? No problem! Teachers always have the tools they need, when they need them, making it the perfect solution for anyone with a busy schedule.
Work LIVE with TEQ's Instructional Technology Specialists!
Teq Online PD is no ordinary online professional development opportunity. Our interactive format breathes energy, excitement, and life into online professional learning. Join our eCurriculum Specialists as they broadcast live from Teq Headquarters.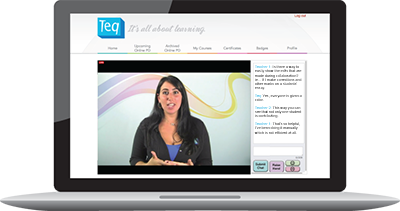 ---
Courses for everyone
Choose from a variety of sessions and courses that support all subjects and grade levels.
Online Digital Teacher Certification
Building Your Foundation for Interactive Whiteboard Instruction
Customized Instruction for Effective Student Learning
Using Dynamic Content to Support Student Engagement with Your Interactive Whiteboard
iPad Track
Learning with the iPad
Assessment with the iPad
All Things Google Track
Google Drive
Using Google Forms
Google Apps
Google Sites
Smart NoteBook Track
Cool Things for Your SMART Board
Differentiating Instruction with SMART Board
Using SMART Response
Assessment
Introduction to Effective Assessmen with SMART Response
Going Further with Data Driven Instruction
Text Dependent Analysis
Blended Learning
Assessment and Evaluation in Blended Learning Environments
Flipped Classroom
Shared Collaborative Environments – Living in the Clouds
Content Specific Tracks
ELA
Math
Science
Social Studies
Languages other than English
Early Childhood Literacy track
Morning Meeting with the Interactive Whiteboard
Using the Interactive Whiteboard for Early Childhood Literacy
Learning Through Games