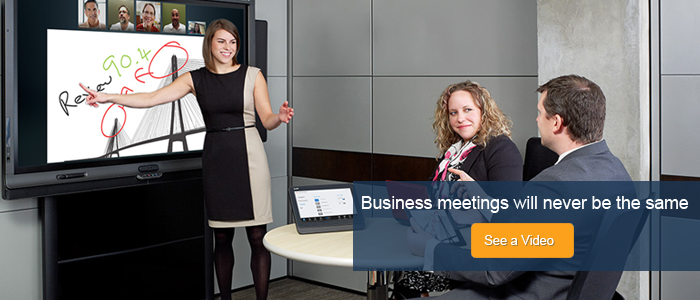 Revolutionize the way you conduct business with a SMART Meeting Room System with Meeting Pro. Using an Unbound Workspace, interactive content and multi-display capabilities, the possibilities are limitless. Includes interactive flat panels, a camera, two table top speakers and two table top microphones. Business meetings will never be the same now that everyone can contribute input no matter where they are, using the device of their choice.
---
SMART Meeting Room Features
Touch-enabled, e-LED LCD display
A durable, high quality display that uses smooth, anti-glare glass to create an optimal touch experience. 4K ultra HD resolution is available with the 8084i model.
Multi-tool, multi-touch
Work naturally by using touch gestures to write and manipulate content or simply pick up a pen or eraser. Zoom, flick and rotate objects easily. Two people can interact with content simultaneously.
High-definition Video
The HD camera captures crisp video and adapts to any lighting condition
Enhanced Audio
Up to 5 tabletop microphones can be connected, ensuring effective coverage and integrated speakers offer high quality sound.
SMART Ink 2.2
SMART Ink automatically enables you to write in any application window
Multi-display capability
n a multi-display setup, view the same collaboration workspace with real-time annotation across all views on all connected displays (running from a single computer). You can work on a zoomed-in detailed view while keeping the zoomed-out contextual view on a separate connected display.